Headquartered in Cincinnati, Ohio, Bush Truck Leasing is part of the Bush family of companies which also includes Bush Specialty Vehicles (complete up-fitting services) and PTG Logistics (dedicated contract carriage). We began providing leasing services to Independent Contractors in 1971 and worked closely with RPI and, eventually, FedEx Ground and FedEx Home contractors as those companies were formed.
We utilize a combination of dedicated inside sales and outside sales professionals to serve the Contracted Service Providers (CSPs) of FedEx Ground and FedEx Home. Inside sales resources staff a call center to answer questions, provide quotes and to faciliate all necessary paperwork. The outside sales staff works in tandem with their inside teams but also focus on visiting face-to-face with locations and CSPs. Our goal is to support your business so it succeeds long term !
Trade In Your Truck
Trade in your truck to get a great new truck!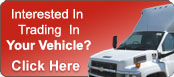 See More ›