Bush Truck Leasing's lease-to-own program allows for minimal down payment, low monthly payments, great tax deductions and the ability to purchase your vehicle at the end of the lease term for only $1. It allows you to build equity in your truck and to spread out the payments to match your income.
Leasing your truck is also a great way to optimize your cash flow. Instead being in debt for the entire purchase price of the equipment (aka financing), our lease-to-own arrangement will reflect only the monthly payment as a debt, because a commercial truck lease is an operational expense. Our lease-to-own approach will not drain your business's credit lines. Conversely, it actually enables you to use your capital in other ways to grow your business.
And, because lease payments are an operational expense, you can write them off in their entirety. Easy tax deductions, ready and waiting for you!
Largest inventory of trucks in the country (new & used; numerous makes and models)
Easy lease-to-own process (no tax returns or financials required)
Trucks are up-fit to your requirements (you know what you need and we can build it)
After 20 years of leasing trucks, we understand the process (almost as well as you do)
Extended warranty options
Click on a title to expand for more information.
An Extensive Inventory to Choose From
We have an extensive inventory of new/used trucks, specified to your needs. As one of the largest buyers of commercial trucks, our purchasing volume drives cost savings which benefit you. Use our online search tool to find the make, model and specifications for the truck or trailer that fits your needs. Don't see exactly what you're looking for? Contact us and we'll get it for you.
Search our inventory
Whether you know exactly what you want, or need to find the perfect truck, search our inventory of trucks!

See More ›
Trade In Your Truck
Trade in your truck to get a great new truck!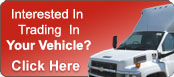 See More ›